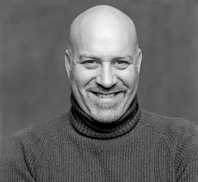 Steven E. Gross has greatly influenced the business of wedding photography. He helped pioneer a photojournalistic style approach to traditional nuptials. He is also known for his candid editorial, commercial and portrait photography.
Gross served in the U.S. Air Force and traveled abroad before studying photography at Columbia College. He established Steven E. Gross and Associates in 1982 and Real Life Weddings in 1995. He brings a distinct sense of composition and timing to all of his work.
Gross' approach to photography has caught the eye of ABC Nightline, Good Morning America, Fox TV and PBS. His work has been featured in Esquire, The Wall Street Journal, Chicago Magazine and numerous publications both nationally & abroad. His book projects include Zhou Brothers, In The Studio and Black and White, Defining Moments of Weddings and Marriage.
An avid biker, camper and sea kayaker, he lives in Chicago with his wife and two children.